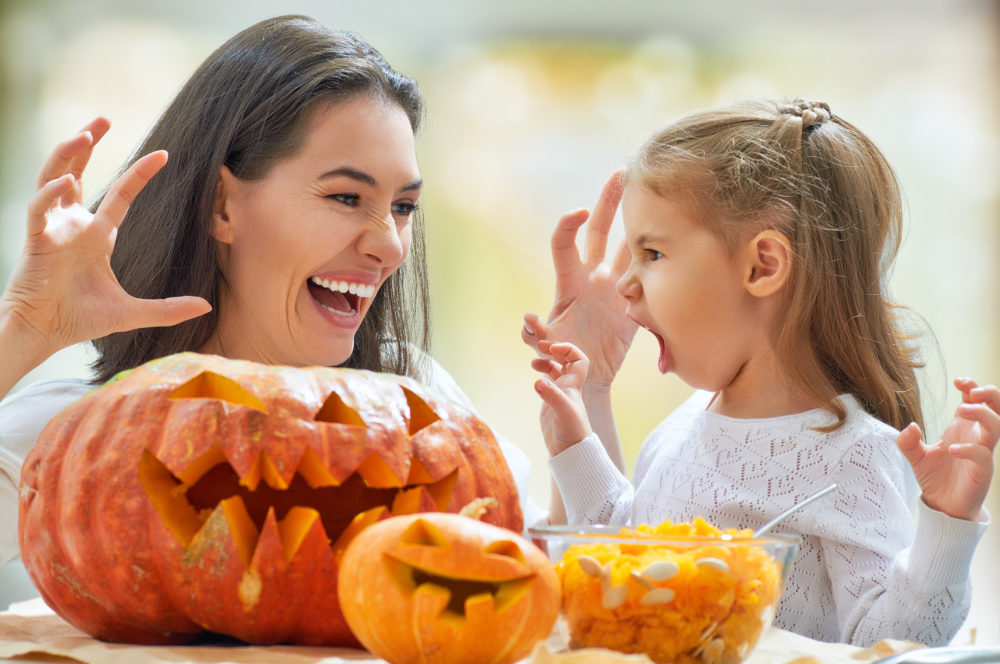 There's no denying that we all like to enjoy ourselves at Halloween, regardless of whether we're five or thirty-five. From a spooky party gathering to trick or treating with the kids, Halloween can be a welcome light hearted release during the early onset of dark winter evenings. But, as a domestic cleaning company based in Alton, we know that with the enjoyment of this spooky event, comes cleaning. There's no Halloween spectacular that is safe from ghastly stains.
So, if you're planning a Halloween bash this year, or have young children, stick around as we take you through some magic Halloween cleaning tips for those spooky stains.
Chocolate
Almost everyone enjoys a piece (or two) of chocolate at Halloween! The biggest issue with it is the stains it leaves behind. From tucking into your Mars bar on your sofa, to the kids devouring their Golden Coins on the carpet, there's no getting away from the chocolate trial this national holiday leaves behind.
But, never fear, we find the best way to remove chocolate stains is to massage a liquid detergent into the stain, leave to soak and rise with water. You may find that you'll need to repeat this step a couple of times, but it does the trick – yes, we know, cheesy pun alert.
Make-up
While it doesn't need to be Halloween for people to go overboard with makeup, Halloween dress up does tend to increase the risk of make-up stains, especially when your little one wants to be a vampire for the evening!
To remove those unwanted eyeshadows, foundation and even lipstick stains, any oil-based product should be tackled with a hard-hitting stain remover. You're able to pick up a stain remover from your local supermarket but failing that, liquid detergent scrubbed into the stained area and a bit of elbow grease goes a long way.
Pumpkins
What's Halloween without a carved pumpkin. They're a good laugh for adults and children alike. But, from gutting the pumpkin to carving the spooky face pumpkins can be troublesome and precautions should be taken to avoid any unwanted orange stains.
However, if you find yourself facing an unwanted pumpkin stain, remember to pre-treat it before a wash, and always used a spoon to remove any excess pumpkin or seeds. Apply a pre-treatment stain remover, working it into the fabric to loosen the particles and leave to soak for around 1 hour. Washing the stain by hand or machine using detergent should remove it, but if any stain remains, repeat the process.
Food colouring
Halloween baking is becoming increasingly more popular, and there's no spooky spectacular cake without some gruesome food colouring. But, what do you do when you need to remove food colouring residue from your clothes or carpet?
Firstly, our advice is don't panic! Removing food colouring stains from clothing is actually quite simple. Soak your stained item overnight in a bowl of warm water with liquid detergent, before washing them in the machine the following morning. The soaking process breaks down the colour leaving your item good as new.
And, if you need to remove food colouring stains from your carpet, it's a similar process. We recommend alternating dabbing with a good quality stain remover and flushing with water until the stain has gone.
Although Halloween stains are to be expected, cleaning up doesn't have to be a difficult process that sucks the fun out of this well-loved holiday.
 But, if you find yourself in a sticky situation after Halloween and are looking for a good deep clean to restore your home back to normality; Bennett's Home Shine is a professional domestic cleaning agency in Alton, on hand to provide you with one off, weekly, fortnightly or monthly cleaning services. Contact us today on 01420 769101 for your FREE quote and book in your post Halloween clean up.