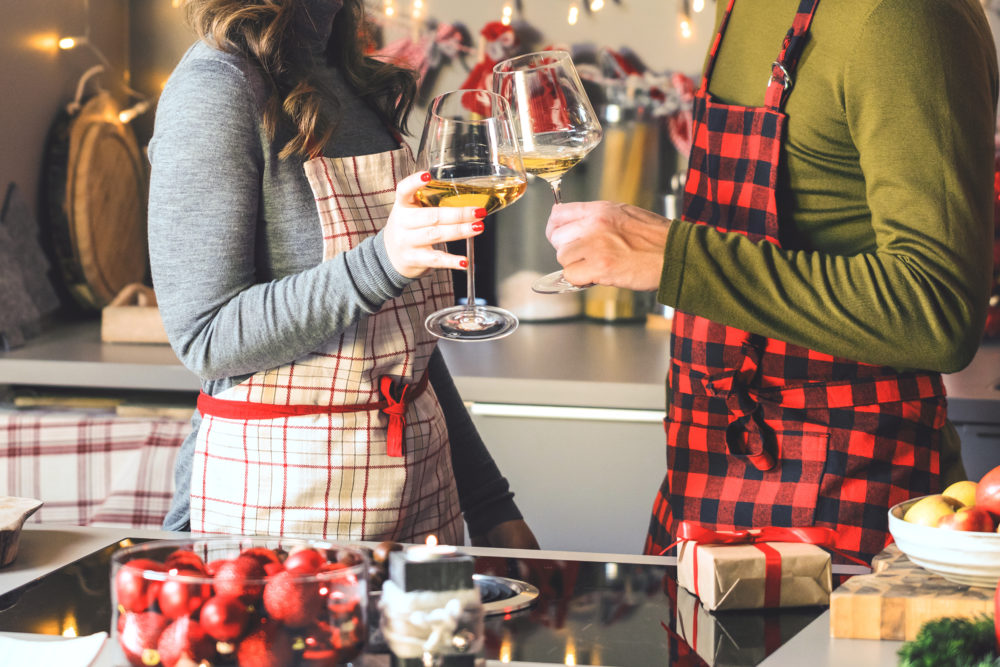 Whilst you can enjoy birthdays and or anniversaries abroad, Christmas is one of the few holidays we tend to spend at home surrounded by our loved ones. For us, Christmas is a time for homemade meals, laughter and quality family time. However, with Christmas comes a long list of 'to-do's before the day even approached. Whether it's shopping, cooking or baking your families favourite cake, preparing your home for the big day is one of the most important 'to do's' there is.
As a Hampshire based professional cleaning agency, we're here to bring you our essential Christmas cleaning and organisation list that will contribute to easing your Christmas preparations, allowing you to thoroughly enjoy this national holiday.
The windows
If you've been reading our blogs for a while, you'll know we're massive fans of a Spring clean. And contrary to popular belief, spring cleaning can and should be done all year round!
If you're a fan of decorating your windows during the holiday, it's important that you spend some time preparing your windows for all the festivities. A Winter clean just doesn't have the same ring to it does it?
We recommend wiping down all your windows with glass cleaner and dusting your window ledges. You'll find spray snowflakes and paper decorations stick better to glass when its clean!
Guest rooms
If you're expecting guests this Christmas it will be wise to give your guest rooms and clean up and make some space in the wardrobe of your spare rooms, especially if you don't want bags and suitcases blocking the entrances to your hallways! Run the hoover round the rooms, dust all the surfaces and prepare a set of clean linens to make your guests feel as comfortable as they can during their stay.
The kitchen
We couldn't forget this step could we! During the Christmas period you're going to be spending a lot of time in the kitchen. This is why it's a good idea to check and see if your kitchen really is ready for some heavy-duty cooking. We recommend clearing out your fridge and cupboards to make room for all the festive produce. Rinsing your special cutlery and glasses is also a good idea, ensuring they're looking their best for the big day. Once you've thrown away old products and things you no longer need, we urge you to turn your attention to the oven. Checking the condition of your oven before Christmas is vital – if there are scorched cooktops or food stains, make sure you clean them before you start cooking in the lead up to Christmas. Not only will this improve the way your appliances work but will put you in good stead when it comes to cooking the turkey! If your oven hasn't been cleaned in a while, Bennett's Home Shine offers oven cleaning service in the Hampshire area.
The bathroom
Cleaning the bathroom is definitely a task no one wants to do during the holiday period. So, to make it as painless as we can, try following these simple steps:
Pour some heavy-duty cleaner into the toilet bowl
Wipe the tiles with an all-purpose cleaning product after you shower (we find the shower steam helps in loosening the dirt)
Wipe all mirrors with glass cleaner
Remove all toothpaste splashes, fingerprints and water rings from the surfaces
You'll find that these 4 simple steps will make a huge difference.
And that's it folks! To avoid the rush of Christmas it's bet to get started on your festive spring clean now. Allowing you more time with friends and family in December! 
If you're looking for a helping hand with cleaning in the run up to Christmas, Bennett's Home Shine is a professional cleaning agency in Hampshire. Contact us on 01420 769101 or email us at Joanne@bennettshomeshine.co.uk for your FREE festive spring clean quote today.